The olivillo tree (Aextoxicaceae Punctatum), which in the native Mapuche language (mapudungun) is called Tüke, it is also known as olivillo (litle olive tree). The most commonly used name, «olivillo», comes from the fact that its fruits are very similar to olives but somewhat smaller. Also known as deadwood, the later because its leaves at birth appear "burned" by the sun and gives the impression that the tree is dead. However, as can be apreciated in the photos, it is a very beautiful tree and, as we will see below, it is a fundamental tree for the preservation of the Valdivian temperate rainforest.
It is very long-lived, being able to live for more than 300 years and reach a considerable span with heights of over 20 meters and diameters that can measure up to 1.7 meters. Its crown is globose, its foliage brownish and its bark smooth, thin and gray in color. It lives next to the Pacific Ocean, on the western slope of the coastal mountain range, up to 400 meters above sea level.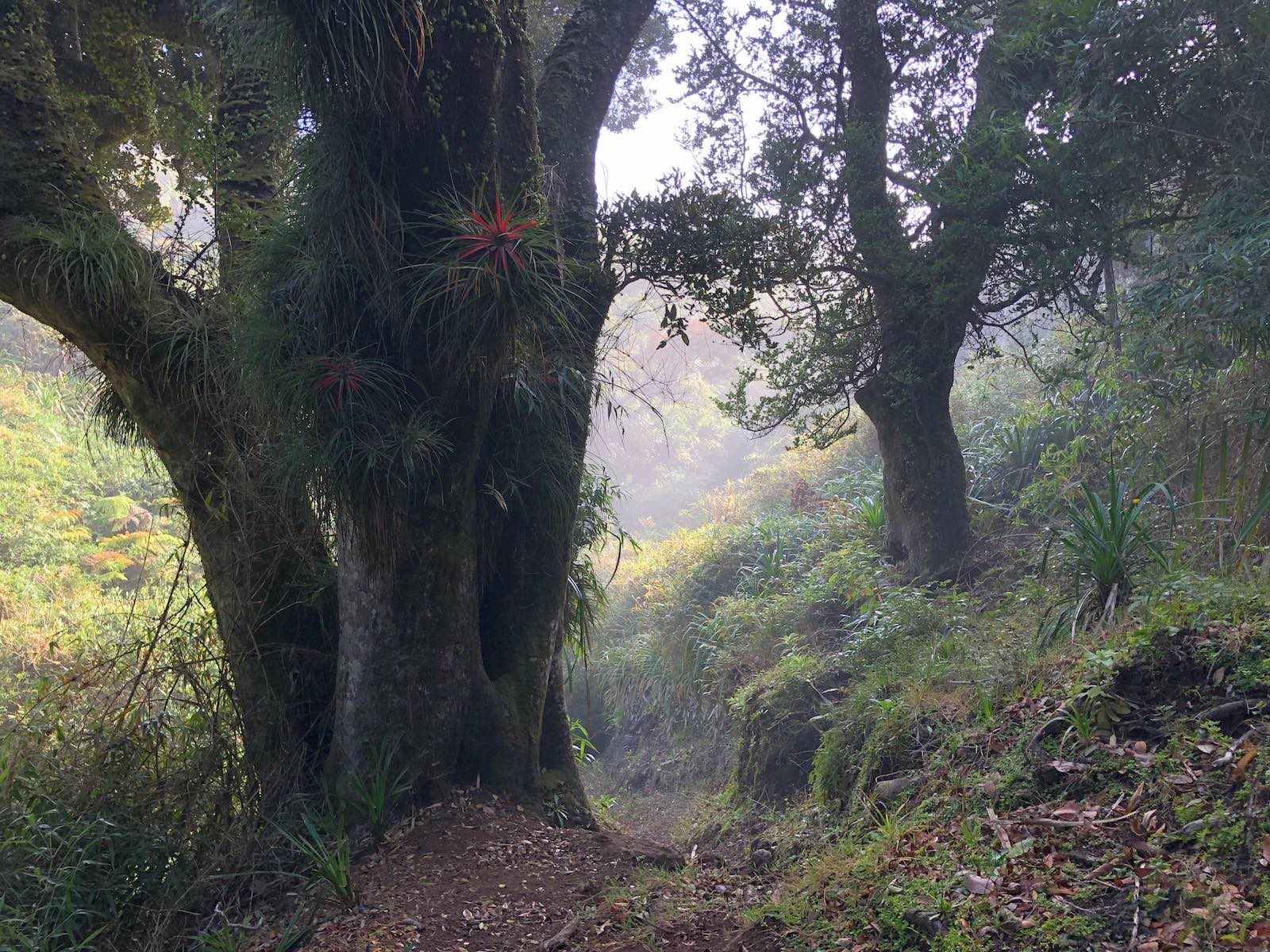 In the image you can also see that plants called chupallitas grow on its trunk (fascicularia bicolor). These epiphytic plants are indicators that we are in a primary evergreen forest or ancient Valdivian forest.
It is one of the main protagonists of the Valdivian rainforest for several reasons:
Olivillo forests are those with the highest biodiversity specific richness in the Valdivian rainforest due to the large number of species that coexist in it.
It is essential for the ecosystem, since it has the ability to collect water from sea mist with its leaves and transport it to the ground. This is very important during the summer season or in latitudes where the rain is much less intense, such as, for example, in the Forest of the Fray Jorge National Park in the Coquinbo Region, where according to recent research it is the key species that structures that ecosystem and therefore vital for its preservation.
It is one of the representatives of the ancient tropical forests of Gondwana, a continent that millions of years ago was formed by present-day South America, Australia, New Zealand, Madagascar, India, Antarctica and Africa. For this reason, being the sole worldwide representative of the Aextoxicaceae family and endemic to the Valdivian temperate rainforest, it is only related to the brother group of the Berberidopsis, a family of trees endemic to the Australian temperate rainforest.  
As a species it is estimated to be about 65 million years old. There are fossil trunks related to Aextoxicon in the Cerro Dorotea formation, in Puerto Natales, Chile, whose date corresponds to the lower Paleocene. However, the origin of the Olivillo is so old that it puzzles scientists since they are not very clear where to locate it in the genealogy of plants.
From the reproductive point of view it is dioecious, that is, there are male olivillos and female olivillos, each individual only owns female or male flowers and therefore depends on pollinators to fertilize their flowers. In addition, the dispersion of its seeds is based on ornithocoria (birds), its seeds can only germinate after passing through the digestive tract of certain birds, we know for sure that one of them is the Patagonian thrush.
In addition to being able to capture the mists, not a minor fact, it is a frankly nice and sociable tree. They are individuals almost always covered with thick moss, surrounded by ferns and all kinds of shrubs and other trees such as luma, ulmo, myrtle … Different species of vines climb their trunks, some of which, like the adult voqui, have nothing to envy to those used by tarzan to swing from one tree to another.
The longest-lived individuals, the mother trees or nucleus trees, deserve special attention. they are connected with hundreds of other individuals with whom they share their valuable knowledge and in whose great treetops there is an entire unknown mini universe full of life forms,
In addition to being a shelter for small mammals and birds of all kinds, in their tops there is a soil substrate of organic matter, called epiphytic soil, which these large trees generate in collaboration with their hosts, insects, from the decomposition of its leaves, fruits and branches.
Although it seems incredible, up there at 15 or 20 meters high, that leafy land has its own earthworms and is home to spiders, ball bugs or piglets, centipedes, ants, beetles … And a multitude of epiphytic plants, which in addition to being very beautiful, are essential to increase the productivity and water balance of the eco-system. These plants capture nutrients and water directly from the atmosphere. And they represent an important percentage of the biomass that, on the one hand, serves as food for other animal species and, on the other, they also feed other plants, since in their tissues there are large amounts of minerals that fall and decompose and go to the ground.
It is a micro-ecosystem in itself with an exclusive and diverse fauna. The coastal forests of Olivillo trees are considered the richest association of epiphytes in the Valdiana rainforest, regarded itself as one of the 35 biodiversity hot spots on the planet.
It would be frankly hopeful, both from a conservationist point of view and from a purely productive perspective, that the forest engineers responsible for the "forests´ management plans" knew new ways of relating to forests. More harmonious, effective and respectful with mother trees than we have known to date. More efficient approaches and practices in every way, such as those described, for example, by Peter Wohlleben, the ranger of a major German forestry company, in his book "The Secret Life of Trees".  
Hopefully we can continue enjoying the wisdom and the company of these wonderful beings who provide us with so much joy and satisfaction!